Mă tot uit la cărţi foarte interesante dar care nu prind nicicum la nicio editură din România…
Deşi eu (mii de cititori din diferite colţuri ale lumii le-au ridicat piedestal deja) le văd drept cărţi cu un potenţial destul de mare din punct de vedere comercial, nu chiar bestsellere, dar acolo, in the comfort zone. Ca să nu mai spun că din punct de vedere cultural, literar sunt foarte importante, atât ca influenţe cât şi pentru cultura generală a cititorului mioritic oldschool sau netist a.k.a. scriitor de recenzii pe bloguri/reviste.
Bineînţeles că nu mă rezum doar la beletristică, că doar e un exerciţiu de imaginaţie şi un wishlist, în acelaşi timp.
Iacătă ideile mele:
Ficţiune:
1 – Europe Central – William T. Vollman
In this magnificent work of fiction, William T. Vollmann turns his trenchant eye to the authoritarian cultures of Germany and the USSR in the twentieth century. Assembling a composite portrait of these two warring leviathans and the terrible age they defined, the narrative intertwines experiences both real and fictional of a young German who joins the SS to expose its crimes, two generals who collaborate with the enemy for different reasons, the Soviet composer Dmitri Shostakovich laboring under Stalinist oppression. Through these and other lives, Vollmann offers a daring and mesmerizing perspective on human actions during wartime
2 – JR – William Gaddis
A biting satire, JR features JR, an eleven-year-old capitalist, who embodies the cash culture he grows up in. The young JR manipulates his meagre economic beginnings including a shipment of Navy surplus picnic forks, a defaulted bond issue and turns them into a massive paper empire. The novel's satiric assault upon the American Dream, and the economics it represents makes a compulsive read and the seminal American novel.
3 – The Recognition – William Gaddis
The book Jonathan Franzen dubbed the "ur-text of postwar fiction" and the "first great cultural critique, which, even if Heller and Pynchon hadn't read it while composing Catch-22 and V., managed to anticipate the spirit of both"—The Recognitions is a masterwork about art and forgery, and the increasingly thin line between the counterfeit and the fake. Gaddis anticipates by almost half a century the crisis of reality that we currently face, where the real and the virtual are combining in alarming ways, and the sources of legitimacy and power are often obscure to us.
4 – The Contortionist's Handbook – Graig Clevenger
John Vincent Dolan is a talented young forger with a proclivity for mathematics and drug addiction. In the face of his impending institutionalization, he continually reinvents himself to escape the legal and mental health authorities and to save himself from a life of incarceration. But running turns out to be costly. Vincent's clients in the L.A. underworld lose patience, the hospital evaluator may not be fooled by his story, and the only person in as much danger as himself is the woman who knows his real name.
5 – Finnegans Wake – James Joyce
Experimental novel by James Joyce. Extracts of the work appeared as Work in Progress from 1928 to 1937, and it was published in its entirety as Finnegans Wake in 1939. The book is, in one sense, the story of a publican in Chapelizod (near Dublin), his wife, and their three children; but Mr. Humphrey Chimpden Earwicker, Mrs. Anna Livia Plurabelle, and Kevin, Jerry, and Isabel are every family of mankind. Languages merge: Anna Livia has "vlossyhair"–wlosy being Polish for "hair"; "a bad of wind" blows–bad being Persian for "wind." Characters from literature and history appear and merge and disappear. On another level, the protagonists are the city of Dublin and the River Liffey standing as representatives of the history of Ireland and, by extension, of all human history. As he had in his earlier work Ulysses, Joyce drew upon an encyclopedic range of literary works. His strange polyglot idiom of puns and portmanteau words is intended to convey not only the relationship between the conscious and the unconscious but also the interweaving of Irish language and mythology with the languages and mythologies of many other cultures.
Non-fiction:
1 – The Time of My Life – W.V. Quine
"Some Pow'r did us the giftie grant/ To see oursels as others can't." With that play on Burns' famous line as a preface, Willard Van Orman Quine sets out to spin the yarn of his life so far. And it is a gift indeed to see one of the world's most famous philosophers as no one else has seen him before. To catch an intimate glimpse of his seminal and controversial theories of philosophy, logic, and language as they evolved, and to hear his warm and often amusing comments on famous contemporary philosophers. From his beginnings in Akron, Ohio in the early 1900s, Quine takes us on a tour of over 100 countries over three-quarters of a century, including close observations of the Depression and two world wars. Far from a philosophical tract, it is an ebullient, folksy account of a richly varied and rounded life. When he does dip into philosophy, it is generally of the armchair sort, and laced with a gentle good humor: "There is that which one wants to do for the glory of having done it, and there is that which one wants to do for the joy of doing it. One can want to be a scientist because he wants to see himself as a Darwin or an Einstein, and one can want to be a scientist because he is curious about what makes things tick …. In normal cases the two kinds of motivation are in time brought to terms …. In me the glory motive lingered …… In this book, Quine approaches the details of his life the way he has always approached them with a sharp sense of interest, adventure and fun. And he has a skill for picking a word that is just off-center enough to pull an ordinary event out of the humdrum of daily life and evoke its personal meaning. The result is a book of memories that is utterlymesmerizing. Willard Van Orman Quine is the author of numerous books, including "Word and Object, "published by The MIT Press in 1960. A Bradford Book.
2 – Collapse: How Societies Choose to Fail or Succeed – Jared Diamond – din fericire Jared Diamond a intrat pe piaţa românească cu alte două volume. Poate că va fi tradusă această carte cât de curând deoarece a fost bine primit de mioritici.
From the author of Guns, Germs and Steel, Jared Diamond's Collapse: How Societies Choose to Fail or Survive is a visionary study of the mysterious downfall of past civilizations.
– What happened to the people who made the forlorn long-abandoned statues of Easter Island?
– What happened to the architects of the crumbling Maya pyramids?
– Will we go the same way, our skyscrapers one day standing derelict and overgrown like the temples at Angkor Wat?
Bringing together new evidence from a startling range of sources and piecing together the myriad influences, from climate to culture, that make societies self-destruct, Jared Diamond's Collapse also shows how – unlike our ancestors – we can benefit from our knowledge of the past and learn to be survivors
3 – The Rape of Nanking – Iris Chang
In December 1937, the Japanese army invaded the ancient city of Nanking, systematically raping, torturing, and murdering more than 300,000 Chinese civilians. This book tells the story from three perspectives: of the Japanese soldiers who performed it, of the Chinese civilians who endured it, and of a group of Europeans and Americans who refused to abandon the city and were able to create a safety zone that saved many
4 – The Rise and Fall of the Third Reich: A History of Nazi Germany – William L. Shirer
With a new afterword by the author, this unabridged edition tells the complete story of Hitler's empire. Famed foreign correspondent and historian Shirer spent five and a half years sifting through the vast paperwork behind Hitler's drive to conquer the world to bring this definitive record of one of the most frightening chapters in the history of mankind. "One of the most important works of history of our time".–The New York Times. (War History)
5 – The Red Queen: Sex and the Evolution of Human Nature – Matt Ridley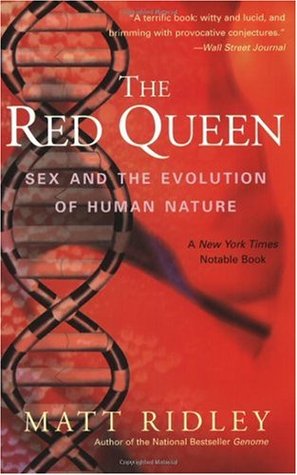 Referring to Lewis Carroll's Red Queen from Through the Looking-Glass, a character who has to keep running to stay in the same place, Matt Ridley demonstrates why sex is humanity's best strategy for outwitting its constantly mutating internal predators. The Red Queen answers dozens of other riddles of human nature and culture – including why men propose marriage, the method behind our maddening notions of beauty, and the disquieting fact that a woman is more likely to conceive a child by an adulterous lover than by her husband. Brilliantly written, The Red Queen offers an extraordinary new way of interpreting the human condition and how it has evolved.
Romane grafice/comics-uri:
1 – Habibi – Craig Thompson
Sprawling across an epic landscape of deserts, harems, and modern industrial clutter, Habibi tells the tale of Dodola and Zam, refugee child slaves bound to each other by chance, by circumstance, and by the love that grows between them. We follow them as their lives unfold together and apart; as they struggle to make a place for themselves in a world (not unlike our own) fueled by fear, lust, and greed; and as they discover the extraordinary depth—and frailty—of their connection.
At once contemporary and timeless, Habibi gives us a love story of astounding resonance: a parable about our relationship to the natural world, the cultural divide between the first and third worlds, the common heritage of Christianity and Islam, and, most potently, the magic of storytelling.
2 – Palestine – Joe Sacco
Prior to Safe Area Gorazde: The War In Eastern Bosnia 1992-1995—Joe Sacco's breakthrough novel of graphic journalism—the acclaimed author was best known for Palestine, a two-volume graphic novel that won an American Book Award in 1996.Fantagraphics Books is pleased to present the first single-volume collection of this landmark of journalism and the art form of comics.Based on several months of research and an extended visit to the West Bank and Gaza Strip in the early 1990s (where he conducted over 100 interviews with Palestinians and Jews), Palestine was the first major comics work of political and historical nonfiction by Sacco, whose name has since become synonymous with this graphic form of New Journalism. Like Safe Area Gorazde, Palestine has been favorably compared to Art Spiegelman's Pulitzer Prize-winning Maus for its ability to brilliantly navigate such socially and politically sensitive subject matter within the confines of the comic book medium.Sacco has often been called the first comic book journalist, and he is certainly the best. This edition of Palestine also features an introduction from renowned author, critic, and historian Edward Said (Peace and Its Discontents and The Question of Palestine), one of the world's most respected authorities on the Middle Eastern conflict.
3 – Jerusalem: Chronicles from the Holy City – Guy Delisle
"Neither Jewish nor Arab, Delisle explores Jerusalem and is able to observe this strange world with candidness and humor…But most of all, those stories convey what life in East Jerusalem is about for an expatriate."—Haaretz
"Engaging…[ Delisle] highlights the very complex lives of Israelis, Palestinians, and foreign residents."—Publishers Weekly Starred Review
Guy Delisle expertly lays the groundwork for a cultural road map of contemporary Jerusalem, utilizing the classic stranger in a strange land point of view that made his other books, Pyongyang, Shenzhen, and Burma Chronicles required reading for understanding what daily life is like in cities few are able to travel to. In Jerusalem: Chronicles from the Holy City, Delisle explores the complexities of a city that represents so much to so many. He eloquently examines the impact of the conflict on the lives of people on both sides of the wall while drolly recounting the quotidian: checkpoints, traffic jams, and holidays.
When observing the Christian, Jewish, and Muslim populations that call Jerusalem home, Delisle's drawn line is both sensitive and fair, assuming nothing and drawing everything. Jerusalem showcases once more Delisle's mastery of the travelogue.
4 – Asterios Polyp – David Mazzucchelli
The triumphant return of one of comics' greatest talents, with an engrossing story of one man's search for love, meaning, sanity, and perfect architectural proportions. An epic story long awaited, and well worth the wait.
Meet Asterios Polyp: middle-aged, meagerly successful architect and teacher, aesthete and womanizer, whose life is wholly upended when his New York City apartment goes up in flames. In a tenacious daze, he leaves the city and relocates to a small town in the American heartland. But what is this "escape" really about?
As the story unfolds, moving between the present and the past, we begin to understand this confounding yet fascinating character, and how he's gotten to where he is. And isn't. And we meet Hana: a sweet, smart, first-generation Japanese American artist with whom he had made a blissful life. But now she's gone. Did Asterios do something to drive her away? What has happened to her? Is she even alive? All the questions will be answered, eventually.
In the meantime, we are enthralled by Mazzucchelli's extraordinarily imagined world of brilliantly conceived eccentrics, sharply observed social mores, and deftly depicted asides on everything from design theory to the nature of human perception.
Asterios Polyp is David Mazzucchelli's masterpiece: a great American graphic novel.
5 – A Contract With God and Other Tenement Stories – Will Eisner
Go back to where graphic novels all started, on the Bronx street of Dropsie Avenue and A Life Force, in Will Eisner's groundbreaking 1978 creation. The human drama, the psychological insight – Eisner captures the soul of the city and its troubled inhabitants with pen and ink. The comics medium was altered forever with the publication of this seminal work.
Cam atât deocamdată.
Am să revin şi cu alte titluri. Mai ales atunci când se adună prea multe în TO-READ-ul de pe goodreads şi de fiecare dată când noutăţile de la unele edituri mă vor scoate din sărite.